Good Shepherd Baptist Church is fortunate to have a talented and dedicated Ministerial Staff:
Denise Aanenson, Pastor
Lee Campbell, Pastor Emerita
Rev. Stephen Guantai, Associate Pastor
Rev. Jorge Saquic, Associate Pastor
And in our historic Baptist heritage, we affirm that Every Member is a Minister.
Rev. Stephen Guantai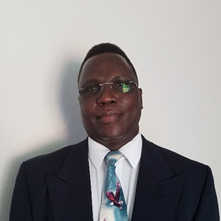 Rev. Stephen G. Guantai was born and raised in Meru, Kenya, East Africa. After attending Methodist Training Limuru Theological College (currently Kenya Methodist University) in Limuru, Kenya (BDiv), he has studied for his MDiv at Seattle School of Theology and Ministry.

He is married to his beloved wife Florence Gituma and God has blessed us with three lovely children: Philemon, Irene, and Daniel. Stephen believes his wife Florence has been a great support to him since he began his work as a pastor. He views his family as the beginning of his mission to reach the larger society.

Stephen served with the Methodist Church in Kenya for seven years as circuit minister, from January 1995 to April 2000. He preached in his native language of Kimeru as well as in Swahili and English and served his congregations in several other tribal languages.

Stephen is an ordained minister in the Methodist Church in Kenya. He came to the United States in 2000. He did a unit of Clinical Pastoral Education (CPE) in the Tri-Cities Chaplaincy Program in Kennewick, Washington for three months prior to attending one year of Clinical Pastoral Education at Swedish Medical Center, Seattle, Washington. 

Stephen and his family joined Good Shepherd in 2013, where they feel at home and became fully involved in the life of Good Shepherd Baptist Church.

Currently, Rev. Guantai serves as an associate pastor. He teaches Sunday School for all ages, preaches in the Sunday morning worship services, and, for more than two years he has conducted a monthly fellowship service for African immigrants and other nationalities.

Stephen strongly believes that God has a purpose for his life, for him to be His servant. He also believes that Christian ministry seeks to impact meaning in life in the midst of social injustices and oppression from any force.

Christ's redemptive love is to be made known to all people along with the glory of God. It is for this reason that Stephen is answering God's call to plant a church here, at Good Shepherd Baptist Church, which will be part of GSBC's Weekly Service.
Rev. Jorge Saquic